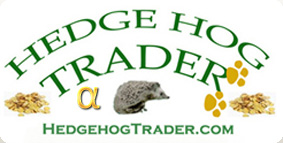 The Years 'In Review'
Hedgehog Trader Shares Client Feedback:
Dec 28 2017
Amazing calls!! my friend i didn't get into all of them but, i did partake in a few of them. one being your recommendation $LTBR and WOW! what a run..i took profits around $1.90 thx! thank you for your dedication and hard work in finding these sleeping gems...Happy Holidays! to you and your family.
regards,
Harry, Toronto
Nov 28 2017
Gotta give it to @HedgehogTrader for giving me the 2 cobalt stocks: CUZ.v (my cost $0.215, now 0.295) and FCC.v (my cost $0.6, now 1.56). Thank you and well done !
H.M.
Nov 9 2017
Doughnuts. Now that IS funny. But seriously, you are still giving them too much credit! 😂

— TLC (@TLC00001) November 9, 2017
Oct 8 2017
Nice call Nicholas! Way to go:)

— Curtis Melonopoly (@curtmelonopoly) October 5, 2017
Sep 29 2017
Nice call. Is it done?

— I am Adam Smith (@Shlik__) September 29, 2017
Sep 16 2017
Thanks for introducing the stock to everyone
M Wright
June 2 2017
Great chat with .@HedgehogTrader today. he's a smart guy. You should follow him.
Sean Brodrick, Newsletter Writer
Feb 18 2017
Your call from early last year when everybody saw a meltdown was amazing. Brilliant.
Kirill Klip, MBA, London
Feb 14 2017
Have to thank @HedgehogTrader trader as well. Constant flow of ideas. Not to mention he's spot on quite often.
Ted S., Soil Sampler
Feb 2 2017
I'm still watching your power. It's cool watching everything you say come true :)
Dwight G., Ontario
Jan 10 2017
Nice move in uranium; hats off to @HedgehogTrader for being one of the first to spot the turn
Jason W., Risk Manager
Dec 8 2016
$FNMA I'm in this thanks to @HedgehogTrader
Liz W., RN
Dec 1, 2016:
@KoreaInvestor Nice! (CCJ rally)
Aug 16 2016
Great call on $UEC! one of my best days ever because of it!
Greg P., Engineer
May 10, 2016
That was on of the best-timed comments posted...ever. Tremendous stuff as always, bud
Adam @Marketsire
Apr 13, 2016
Hedgehog Trader: CNBC Oil expert says oil may make new low below $26, therefore oil and energy prices are about to explode $USO
So so true!
Grant N.
(And we know how that call turned out, oil has soared above $50!)
Apr 16, 2016
Love your stuff man. Keep it coming. Thank you
@Steveogk142
Mar 25, 2014
"Great call on PLUG!"
Eric Jackson, Ironfire Capital
Mar 6, 2014
Hats off to @HedgehogTrader who called $DNN Denison Mines at $1.20 ... now $1.65 in about 45 days. Good work if you can get it :-)
George T., Agoracom
Mar 5, 2014
I have to say @HedgehogTrader was early with table pounding buys on $FCEL & $PLUG - prudent calls & incredible timing..... well done!
Philip E. (Fund Manager)
Mar 5, 2014
"You guys are awesome. Still holding ($PLUG)
Geoff G.
Feb 28, 2013
Nice calls on the fuel cell group. Another remarkable day. Does Yellen drive an electric car?
Ted Dixon, CEO INK Research
Jan 7, 2014
"Great call!"
Eric Jackson, Ironfire Capital
Jan 5, 2014
Special thanks to @HedgehogTrader for the heads up on $PLUG early Dec. - sold after Thurs/Fri 50%ish pop -started my trading year off right
Dragonfly™ @DragonflyFund
Jan 4, 2014
Nicholas did it again. After a private client email this week - I bought 20k shares FCEL at 1.46. The very next day, Pop to 1.70. He has done it again and again.
P.S. And right before that it was the same with PLUG...Get in at 1.55 was the email on Dec 31st..January 3rd close it sits at 2.69..Amazing
Bryan P Leonard, Texas USA

Dec 26, 2013
Being a private client and working one on one with Nicholas has been unreal.
HIMX from 3 to 10
FMCC from 1.47 to 4
DNN from 1 to 1.34
MUX from 1.72 to 2,65
MCZ from .47 to .88
He's handed me winner after winner and has me on the right track!
With gratitude,
Bryan P Leonard, Texas USA

Dec 6, 2013
Great work by @HedgehogTrader on all the fuel cell names from long ago until recently when they have been showing nice moves $fcel & $plug
Philip E., Fund Manager (NYC, Philly)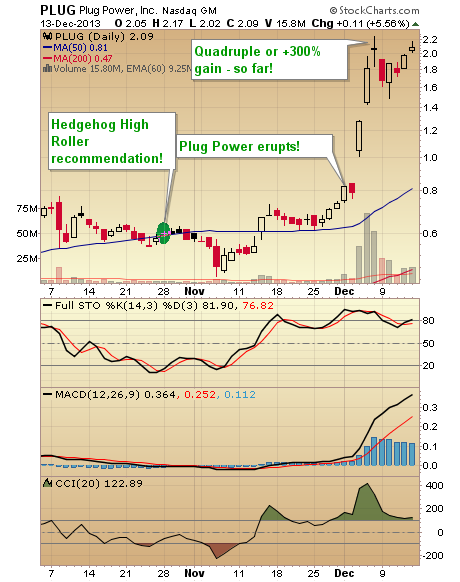 Dec 6, 2013
Nice bullish call in Oct on $BLDP http://stks.co/qiDJ $FCEL & $PLUG calls looking good too!
Ted Dixon, CEO Ink Research
Dec 6, 2013
Nicholas alerted me on $TSLA in Nov-Dec of 2012 that a BIIIIG move was coming on $TSLA. so yea.. he's good
Emily, BC Canada
Nov 29 2013
HHT Newsletter subscribers>>been banking serious money since i joined, alerted $MY under $2 (up 20% in less than 5 days!) and metal stocks on weds! THANKS
(Follow-up added Dec 4th) One of you small caps is up 44% today!! Wow!
(Follow-up added Dec 6th) Incredible newsletters, I have the biggest return from this newsletter in my trading career. :) Triple in PLUG Power!
Ryan H. (Hedgehog Trader Newsletter subscriber, microcap Hedgehog High Roller advisory subscriber and private email client)
Aug 30 2013
Hedgehog Trader,
Thanks for the great service! Your newsletter is really great!
Robert M., CT
Aug 26 2013
Levon Resources (LVN:TSX) has officially broken out. (An 83% gain!) Hat tip to @HedgehogTrader who picked up on this move a couple of weeks ago
George T., Toronto
Aug 24 2013
For investors looking to play the junior resource market or widely followed big name stocks, Hedgehog Trader has an established track record of uncovering undervalued situations that are overlooked by mainstream and institutional investors. I know through personal experience that the Hedgehog has a unique talent of combining stock trends, company knowledge, market moods and insider activity to identify rare opportunities.
His long-time experience in covering the junior mining group ranks him as one of the veterans among resource stock newsletter writers. But I have found that his insights into markets go far beyond prospecting junior resource gems. Through his proprietary Alpha signals, the Hedgehog identifies breaking upside and downside situations well before they are recognized by the crowd.
Ted Dixon,
CEO INK Research
Aug 24 2013
Hedgehog Trader was all over this explosive move in Gold Stocks this summer, with his precise Calls based on proprietary Alpha Signals and close following Insiders' activity - his work is highly recommended by us. You deserve a huge round of applause. Very well done!
@Sufiy
Aug 15 2013
Prescient call on the miners!
Eric Jackson, Managing Partner, Iron Fire Capital
Aug 14 2013
Dear Nicholas
I am really enjoying the wonderful returns thanks to your newsletter. It has given me the confidence to stay longer in my miners. You are a master in stock timing. I haven't seen anyone who has been so successful in navigating the miners. They are hard to play longer than pure day trades. But you have successfully gotten in and out of them in the last 2-3 weeks which is really amazing.
I hope this rally continues a bit longer and then once you start selling the miners, I might start hedging in my long term accounts.
Thanks again for the wonderful newsletter. Today alone paid up for your newsletter for over 10 years. It's a masterpiece.
J.V., VP at a Media company, San Jose, California
Days later, subscriber J.V. updated us on his progress, and sent me this additional note ...
The good run continues. BTW when I said it paid up for 10 years, it was more like 50 years. And then yesterday was day 2 when it paid up for another 60-80 years. So thanks a lot for that.
July 24 2013
Thank you, I appreciate your insight very much - especially the work you share through DM - your skill set is very unique. Some very interesting confirmation of a certain set of predictive & market behavioral tools that @HedgehogTrader uses in the stream this am.
Philip E., Fund Manager (NYC, Philly)
May 31 2013
Enjoying the subscription. Thanks!
A. L., Toronto
Feb 12 2013
Thanks for a good call on ZNGA and BB [BBRY] :)
Sent from my iPhone
S. Maley, University of Alberta
Sep 27 & Nov 8, 2012


Spent a few hours going over the miners with @HedgehogTrader - been involved with this group a long time, no one is better than he is w/them. He has a very deep bench-all with compelling fundamentals & unique catalysts.
I have been following him for a long time, his timing is phenomenal.
Philip E., Fund Manager (NYC, Philly)
Sept 15, 2012


I managed to get in on [XXX]. The good news is (in one trade) you have already paid for yourself :).
Hussein B., London UK
[private client]
Sept 14, 2012


As always you called it perfectly! I couldn't do it without you. Thank you Nicholas.
Gary Hanlon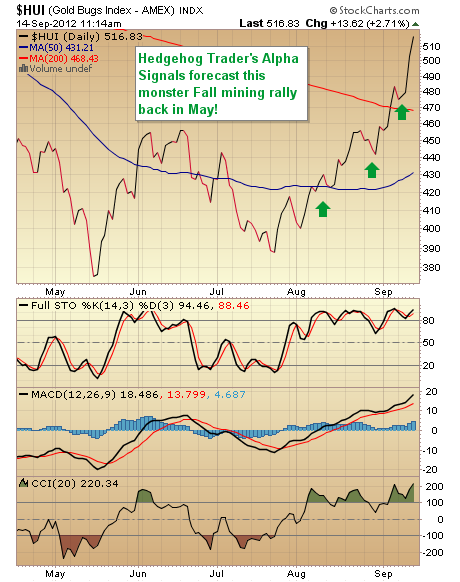 Aug 25 2012


A good newsletter that picks the junior gems and includes sensible stops to protect on the downside!
James K., Vancouver B.C.
June 18 2012


Hi Nicholas:
I am on the same page and it is always nice to get outside validation. I really enjoyed the report and as always your analysis is spot on as are your charts.
I do not know what you are charging these people but whatever it is they should recognize that your updates are worth every penny to them to sift the information from the static.
I do believe that both the metals and the shares have bottomed as you suggest. Of course this does not rule out retests, although I believe that the likelihood of a retest is diminishing. I also think the macro picture is unfolding in a manner that will catapult the metals & shares higher albeit with fits and starts along the way.
Roger Vertes,
Boston, MA
Series 65 Licensed Investment Advisor Representative
March 7, 2012

Thank you for your insights and opinions. Your latest HHT of 6 March gave me a good laugh -- as well as good information, of course.
M. Munkasey
Nov 14 2011

Love the HHT. Great service.
HHT is most unusual and useful. Many of your recommendations have soared. Even in a tricky market like this one, your picks hold up pretty well. HHT really knows the metals & stocks.
Larry B.,
Arlington, Virginia
May 30, 2011

Nice call over the week-end from HedgehogTrader Newsletter. First trade already worth yearly subscription!
Charles D. (Montreal, QC)
Apr 19, 2011

Nicholas,
This morning I was out the door before the markets opened. So, I put in a limit order to buy Romios Gold, RMIOF at .46. I already have a position that is up well over 100%. The bad news was the order was not filled. The good news was RMIOF was up 26.1% for the day. WOW!! – This is the largest single day up movement I have ever seen.
Peter C. (California)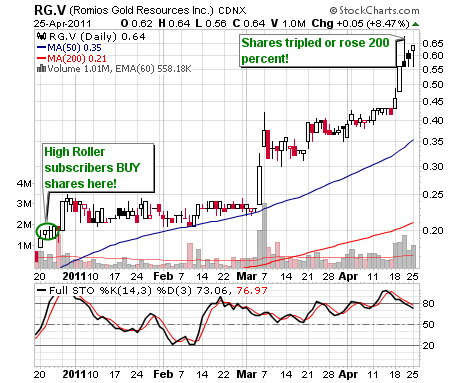 Apr 11, 2011

Hi Nicholas,
A few years back Sean Morton recommended I follow you, that trading stocks was going to be the best way to follow gold's rise. I didn't know anything about trading but started following you anyway... and I bought some gold and silver coins and opened a brokerage account.
Soon after, I lost my job, started renting out my residence as a vacation rental and the family stayed at my sisters ...when the house was rented.... I also consulted but seeming as my bills were 10k/month at the time I lost my job, that was still not enough. Cashing in gold coins helped kept me afloat for that year and a half of being unemployed, but I also started trading.
The only advice that helped was yours!
The money I made trading made all the difference, I was able to make all my bill payments. Last year I made 180k the most I ever made totalling all income streams, even though I was unemployed for 6 months of it!
I have just bought a house in Boise, you may know how hard it is to buy a house these days, but I will be able to keep some money in my brokerage. I didn't sell my house in CA and I have had emergency after emergency pop up, but still able to purchase the second home.
To make a long story short, Thanks! You and Sean have made the difference in my life that without, like a house of cards (that most of us lead our lives), could have come tumbling down. But didn't.
Cole F.
(Ed. Note: I am inspired and amazed by your story. Yours is a reminder that life is not always kind - it's a credit that you fought against all adversity and made your dreams a reality. I am very happy for you!)
Mar 25, 2011

Hi Nicholas,
My thanks and gratitude for the Wildcat Silver play yesterday!
It was truly amazing to see it rise so quickly from $0.40 to 2.50 overall and from 1.78.-2.50 in last week alone!
I so appreciated your support in helping me sell a majority of those shares at the top!
With eternal gratitude and thanks for all the individual support you have shared in my process of learning to trade commodity stocks.
Blessed Day,Donna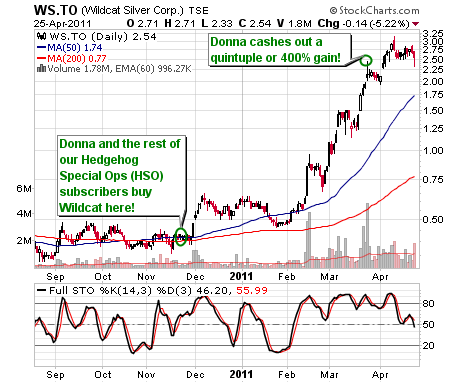 Mar 11, 2011

I can't believe the metals. I'm getting tired of doubting you!
Chris G. (Hedge Fund Manager, Florida)
Feb 3, 2011

Nicholas: thanks to our wee email conversation of last week on Potash Passport you have been following for some time and which I just caught on to - "your endorsement tongue in cheek" that you have been twittering it for ages gave me the confidence to buy 3,000 shares at .45 cents - now today zippers, it is singing.

J. Anderson, (Ontario, Canada)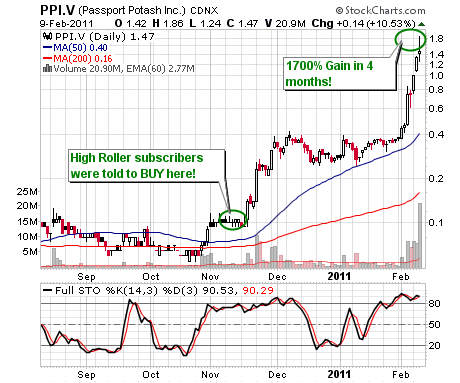 (Ed. Note: Quite incredibly, this agricultural wonder Passport Potash PPI.V nearly quadrupled right after this email! Best of all, not only did this *potash* stock soar to $1.80, but a kindly old lady (in a pleasant irony) who is an avid *gardener* living on a pension, saw her spirits soar, as well!)
Sept 11, 2009

Eric King interviewed James Dines last week and was praised for being the first, in May, to call the Rare Earths market explosion to come. My compliments to you as you called it much sooner. Maybe Dines reads you.

Keep up the good work.

Shawn Mulkin
Sept 10, 2009

On another note, let me extend my appreciation once again for your continued research efforts and stock recommendations. Like you mentioned, things are rocking. I saw a +10.4% increase in my diversified portfolio (I hold all stocks recommended in HHN, HHHR, HSO, and Special Reports) in just the last three days of this past week. MUCHAS GRACIAS

F. Sell
Spokane, Washington
Aug 20, 2009

Keep up the great work. As a suscriber, the crises and melt-downs come and go, and we just keep dipping in and out with profitable trades.
POM/PLM already provided one load of profit --- looking forward to another surge.
Many thanks.
B. Johnston, Quebec
July 26, 2009

Thanks, you are awesome and have made me some decent money this past 6 months. I will be a subscriber until I die!!!!

Renee N.

British Columbia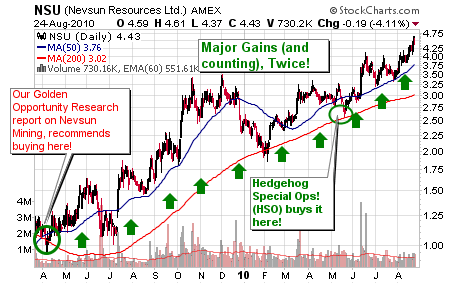 July 22, 2009

Huge CONGRATULATIONS on the GOLDEN OPPORTUNITY stock. I'm sure glad I ordered a copy of the report!!!

Keith L., Arizona
July 10, 2009

Hello! I found out about you a while back from Sean David Morton. I followed your blog.



You were able to call the top of the gold market back in January 2008 (or 2007). Anyway, you were so right on. It was a Monday morning. You were so great to offer that advice free back then.

Kay J.
June 6, 2009

Dear Nicholas

It's time for our "Mexico Fix", so my wife and I are leaving for Mazatlan next Wednesday for 10 days. It's harder to go this time of year, as summer is approaching with warmer weather for Spokane.



What I'm hoping for is another Corex Gold discovery. Your recommendation for that company came when we were in Cabo San Lucas in late March/early April, and obviously, it has been a BIG WINNER. The biggest challenge as an investor is deciding which of the many selections you provide is going to be the "horse to ride". For the last year, I've followed your cautions and invested a specific amount into each company, thus spreading the risk.

That risk/reward management plan has proven to be a WINNER, and I wanted to express my sincere appreciation for all the research time and steady stream of communication you provide to us investors. My overall portfolio has grown dramatically, and in spite of one down day in the last six, my portfolio (mid six figures) has advanced 9 ½ % in that short period of time alone. So, from the recesses of my heart and soul, MUCHAS GRACIAS, MUCHAS GRACIAS, MUCHAS GRACIAS!!!

Additional good news is that I will have my laptop with me in Mazatlan, so no recommendation will go idle. With margarita or cerveza in hand, I plan to help you dig up another hot Mexican gold mining prospect. Keep up the outstanding work.

Your amigo

Frank S.
May 4, 2009

Very nice!

I'm going to have to go public with Hedgehog, you are just too good.

My dad has been going crazy trying to refute my discussions about your work. It is driving him crazy, and my wife she can't stand our arguing over stocks. I am consumed by it.......

"Nicholas has helped me invest in this difficult market. His recommendations are timely and to the point, not a lot of reading involved. The updates on the market are detailed and informative with results I would have never thought possible." - LinkedIn.com Recommendation

- Cole F.



Dec 2008: Merry Xmas....Mr Nick....thank you for the Christmas greeting and thank you for a year of handholding and excellent advice...you have been able to navigate this treacherous market better than anyone else I listen to. Keep up the great blogs and newsletters....peace/out...D. Parry, Colorado
Oct 17, 2008
I' ve been a big supporter of yours and turned a lot of people onto you. Your blog & HHT is great. No, awesome. It almost has become an US vs them (illuminas) scenario as they have brutalized with this phony bailout and finally come out of the shadows ... yeah more like robbery - blue light giveaway special on aisle 666 Thanks!
Sebastian, California
Sept 18, 2008
Nice call on today being a great day to be in gold! Curtis J. Sept 18 2008
Jan, 2008 Dear Winton, i thought i would add that i applaud you for not limiting yourself to only one sectour of the market. to open a HHT newslettre and find a .20cent junior recommendation next to WALL-MART is exquisette. (don't mind my spelling). J. Gastal, USA




Ed Note. That junior tripled in two months. :) We banked 5% on Walmart and watched it tumble 20% and Walmart hadn't plunged like THAT in over a year.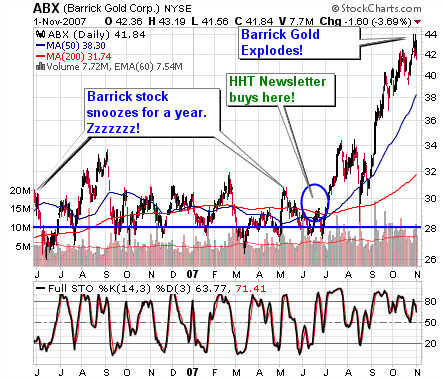 Nov 1st 2007

Hi Nicholas,

Your Barrick pick was awesome! 40+

Your VMS pick that i made a little money off of is about 0.60 cents, kudos to you! I know that you cannot be 100% correct all of the time but a lot of your calls are very good and I can tell you have done your research as well as using your Alpha models. Better than getting your stock picks from the tv, haha. Take care and look forward to HHT #11, Steve Eng, Toronto

(Ed. Note: our Barrick recommendation shot up from $28 to over $40. What was just as satisfying is that Barrick shares did absolutely nothing for a year until a week after we recommended it. Our Alpha Signals nailed the timing, perfectly!


Feb 2007

Hi Mr Winton,

Thanks for the quick reply, I will stay with you until my subscription runs out then, thank-you.

You have an excellent business, and I compliment you on providing a unique effective service. I looked at ALL the options out there, and chose you from amongst all the options.

I have recommended you highly to my friends, some of whom have subscribed I think. The only reason I wanted to cancel is I am not doing any more heavy investing

I visited your [Marketocracy.com) site and was very impressed with your growth rates, plus I was very happy to find a CANADIAN service.

You should apply to be a guest on Coast to Coast, it would really boost your business with 11 million listeners!?

Anyhow, I wish you all good things and happy blessings,

All the best,

J. Macgregor
Nanaimo, British Colombia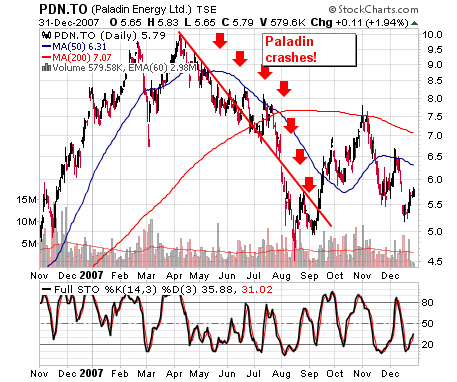 Jan 3, 2007

Thanks for the info on Paladin and uranium stocks In general, I will be sure to use some caution there.

First, let me congratulate you on your call about Railpower, you nailed that totally!

I did not buy on your initial recommendation which turned out to be fortunate, but I did not resist your continued support for the stock and I ended up buying it at 64 cents. I still have it but will see if I can take some profits as you suggest.

Steve
Ottawa, Ontario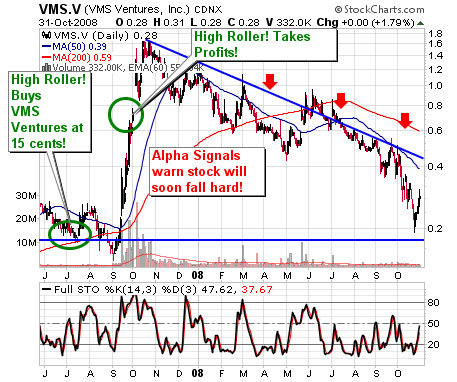 Dear Nicholas THANK YOU THANK YOU I wanted to express my appreciation not only for a wonderful recommendation, but also for a spectacular trade. I purchased shares when you first informed HHR subscribers about the "potential". I accumulated, over a month's period of time, 146,000 shares. I followed your suggestion to sell on 9/20 - 9/21, and cashed out 70,000 shares, thus recouping all my initial investment. That left me with 76,000 shares, which I sold this morning at .62 for a BIG profit. I wanted to take the time and make sure to express my gratitude. Sometimes it's very easy to let slip away the courtesy of sending a "kudo". I imagine it's easier to criticize than praise, and I would guess that the August debacle brought out the naysayers in droves. I always look forward to your next and newest recommendations, so keep up the excellent work. Sincerely

Frank Sell

HHT -- HHHR -- HSO Subscriber
Nov 4, 2007
Thanks for all the great picks you have recommended!  Mary H. Nov 4 2007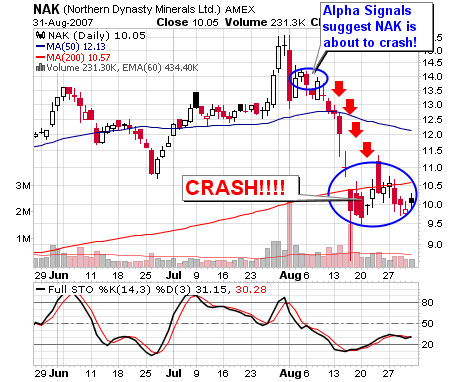 Aug 16, 2007

Hi Nicholas ! Wow this hurts (Ed. Note: referring to gold correction of Aug '06), but my NAK short is up $4.17 (per share!). (Ed. Note: free blog recommendation to short NAK.) But it's kinda like licking the smeared frosting off the empty cake dish. Once again I'm keeping the faith in your large efforts lately. Thanks for the encouraging updates on the blog.
Big Dave, Anchorage, Alaska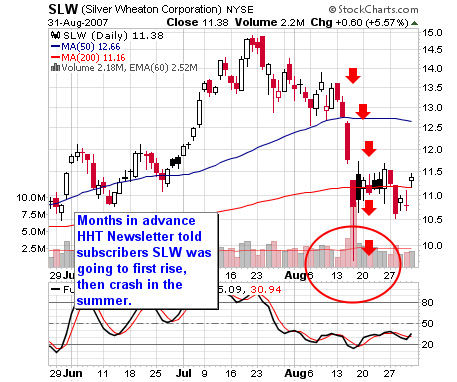 Big Dave Dear Nicholas; Its 1:30 and I just closed a short trade of SLW for $1.13/share profit. To a cautious newby trader this is manna from heaven. Or from alphas predictions that you are reading perfectly. Just want to encourage your hard work for my benefit. Thanks again.
'Big Dave', Anchorage, Alaska
Dec 2006
Nicholas,
Thanks, again, for everything.  I usually do not subscribe to investment newsletters or services, but I have given your newsletter a chance and I am exuberant that I have.  My everyday employment is income is good, but everyone needs the extra  boost in returns from investing.  HHT is  now the turbo boost for my portfolio!!
You have a golden, poetic prose which I am assuming probably matches your overall being.
With prosperous wishes, Brian
Senior Vice President
XXXX Insurance
Los Angeles, CA 90017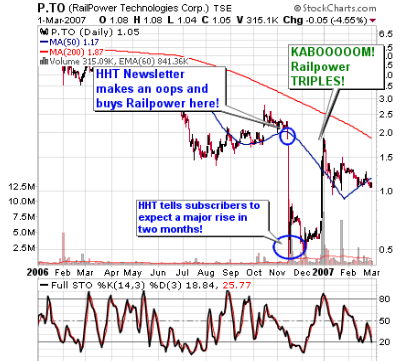 Jan 1 2007:
Any time you want to wax poetic, couplets or whatever, be my guest. Your call on the above (Railpower) was spectacular. I bought my first 1000 shares at $1.88, and the final 4000 shares between 45 and 55 cents. Many thanks for the Alpha profits. I'm considering subscribing to your other service and will decide soon. As you may recall, I have subscribed to The Dines Letter for a number of years. He has been thoughtfully, exuberantly, wildly bullish on uranium for a number of years. […] Perhaps great minds, and good analysis follow similar paths.

At any rate, many thanks for your concise and most profitable Hedgehog service. Have a fruitful, peaceful and prosperous New Year.

Again, Nicholas, many thanks for your analytical prescience. Yours in peace,

John K.