Posted on March 25, 2013 by admin | No Comments
Greetings, readers! I can't believe we haven't put up a blog post since early December.
Though this does make excellent sense, as our team been very busy doing research and analysis for our private clients (fund managers and independent investors who want one on one interaction) and our loyal subscribers – and generating fantastic gains with some timely analysis, savvy strategy and the kind of uncanny predictions you've come to expect! If you're not a current subscriber or private client, you've been missing out on some fantastic excitement and profits at our unique publication.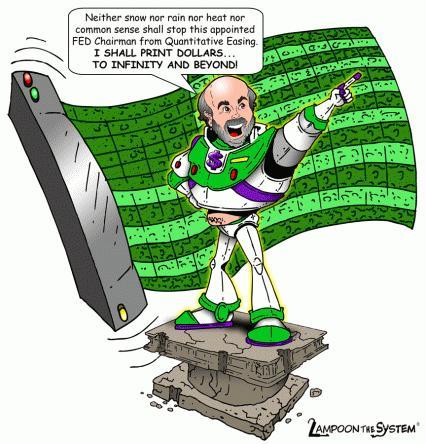 As we've waited for mining stocks to bottom these last few months, unlike the many (understandably) morose gold newsletter writers who limited themselves to focusing on a sector in decline, I'm pleased to say Hedgehog Trader Newsletter (HHT) generated significant gains in broad market stocks. In fact, the stock market's record low VIX has meant that even broad stocks have moved very little and very slowly on average.
And yet, our Alpha Signals have allowed us to pinpoint buys and crystallize major gains – including a spectacular 30% gain in just 12 days on a bank stock we bought late in 2012 (we highlighted it as a likely big gainer) – a 900% annualized gain! And a 40% two-month gain on an insider buying play, a cheap US-listed software stock – for a 240% annualized profit. And in our newsletter (and predicted on Twitter here, when we called the return of then-hated shares Research in Motion US: RIMM (back in early September before it doubled several months later!) and 13% in shares of Zynga US: ZYNGA. And a 4-day 6% gain in Nvidia US: NVDA.
That said, mining stocks are first and foremost in my mind due to their amazing upside due to record low relative valuations amid record pessimism. Despite the decline in the mining sector (and because we're contrarians) we've bought the dips and sold into strength – such as netting 24% gains on Dec 17th (three miners).
Record volatility and let's face it, heavy manipulation has fooled us all at some point or other during gold's mini-bear cycle within the bigger bull market. But it's our ability to land on our feet that sets us apart. (We had thought the miners rally would last the entire Fall but when the shorts began to pile on ominously in October and November, we took profits mid-October and made wise use of stops when we bought the dips, letting the market do our work for us.)
I can say we correctly forecast a rally for miners early in the New Year and deployed positions, resulting in a quick 21% gain on a leveraged Asian gold play, a 27% gain on a gold junior, 22% on a growing silver producer, 15% on a medical supply company, 10% on a Brazilian gold explorer, 6% on a Canadian copper company, 6% on a zinc company 5% on a gold fund. What commodity bear market?

At the end of January, we took a quick 9% gain on Tesla Motors US: TSLA, and a 9.2% gain in a nifty transport-manufacturer,
After the first week in February we put on the brakes and waited for more weakness in the HUI (which looked like it may not hold 400) before adding shares.
In early March, we took 7.2% gains in Blackberry US: BBRY, 12% gains on that transport company, 13% on our second trade on that bank stock we'd earlier made 30% in, and 5.2% gains in an airline. A week later we took 14% on Blackberry for our second big one-day gain on the turnaround story in just 10 days. Again, we were Back in Black – with Blackberry US: BBRY that is, and generated another quick 7% gain – making it 28% gains on three Blackberry US: BBRY buys in a month. In fact, on March 10th with shares seemingly directionless, I published my prediction here on Twitter and the stock took off from $13 to $16 in short order! Last week, we also generated a two-day 4% gain (open) in a US-listed company with a revolutionary technology.
As scared investors of all sizes stand paralyzed on the sidelines, we're looking at miners, as they're trading at record low relative values.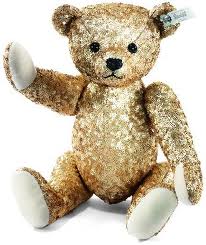 (Bye-bye soon! Mini Gold Bear.)
That's because the charts below suggest, we are on the verge of a massive gold, silver and mining stock breakout. The last time the miners were this cheap and the odds were this good it was 2009 and our positions doubled, tripled (and more) in the year and a half that followed.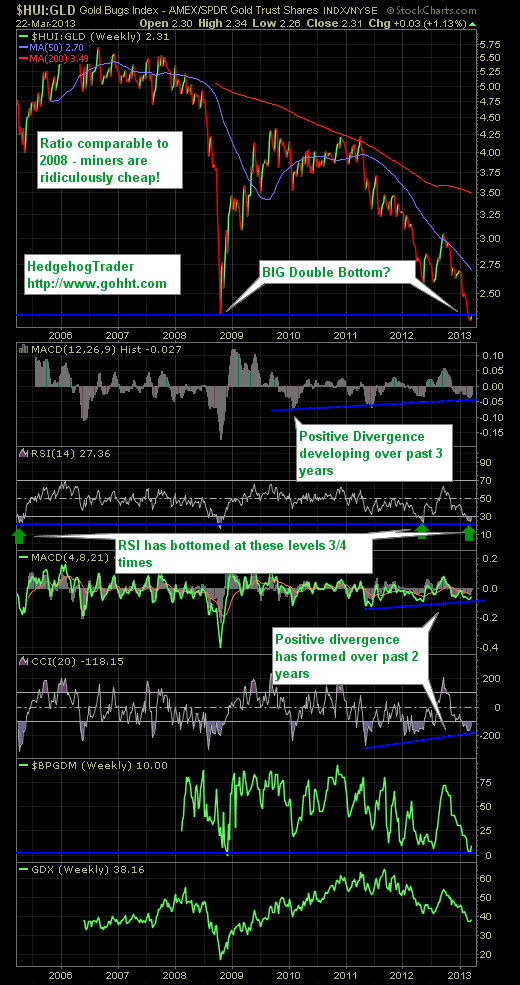 So, as of late, we've loaded up on our favourite miners (including some with insider buying and amazing production growth prospects!). Being wise, we have some great offensive and defensive strategies in place, as well as a view to what's going to happen next. So why wait? Join us and profit today! This rip-roaring-rally could come any day now!
This entry was posted on Monday, March 25th, 2013 at 12:48 am and is filed under Uncategorized. You can follow any comments to this post through the RSS 2.0 feed. You can leave a response, or trackback from your own site.